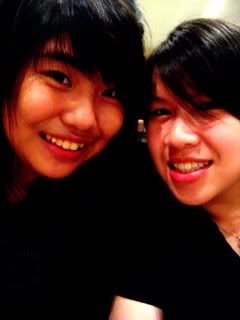 i just chose my cds with yanming. yup, all the same choices.
hopefully i will develop interests in them,yup yup i will.
and to those that are reading my blog, dont forget to choose yours too ok.
so irritating la, so many things have to do.
and oh ya not to forget, 2nd week will be lab test.
oh man oh man, how ah?! confirm die manxzxzx
nvm, there's always the breadboard exchange method right?HAHHA
i kind of look forward to going to sch i dont know why.
i miss ANYING laaaaaaa!
ps your love once for me ok?HAHAHA. ooops, no la.
i will choose one day to date you out.
so shy la, everytime i initiate to date you out you know.
next time your turn ah, i dont care.
and im so so so angry ytd la. seriouslyyyyyyyy ok.
WHO ON EARTH WONT SUSPECT YOU MAN?!
YA SAYING MONEY MATTERS ARE SENSITIVE ALL, PLS MAN.
ITS NONE OF YOUR BUSINESS TO EVEN COUNT THE AMT INSIDE RIGHT?
AND NOW I HAVE TO PRAY HARD THE MONEY WILL BE FOUND SOMEWHERE.
OMGOODNESS, AND IF THE MONEY CANNOT BE FOUND, I HAVE TO SLOG MY GUTS OUT AND WORK TILL I DIE LA.
and the stubborn headache just doesnt want to go away.
mating with my brain cells is it
ok, relax relax.
stayed at home the whole day.
i think mummy's kind of crazy sometimes in a good wayyyy yup.
she wants to buy a new phone for me. wahhhh! so nice right?
so i will be working tmr again. sianxzxzxz to the max la.
i've just knew of another 2 faced snake.
oh man oh man, cheat my feeelings la. luckily i didnt believe you in the first place.
ok, im not talking about any of you reading my blog.
he wont find his way here. i know im mean but he started it first okkkkk.
save your honeyed words for those desperates ah thanks(((:
Since there's no more you and me
It's time I let you go
So I can be free
And live my life how it should be
No matter how hard it is
I'll be fine without you
Yes I will
i want to go job hunting soooooooooooon!
anyone got lobang?
i need it badlyyyyy.
hopefully priska can pull me and jing into the airport job.
omg, so tempting can. walao, pls let us all work tgt(((:
winnie's like making my toes laugh.
saying she's shy. HAHAHHAH
everybody pls laugh with me.
that pretty lil girl.ook, next time you come tp i bring you ard when me myself is familiar with everywhere ok?
i miss my haojiemei laaaaa.
can this 1 week be fast forward?
like tonight or sth.
i will miss you ok.
cannot even communicate with you laaaaaa.
take care when you are there.
okok, i want to watch my show soon.
byeeeeeeeee
AND I NEED KBOX CANNNNNNN!
and sorry ya mag for rejecting your dates twice.
i will try not to do that again ya.
okok, this time round i will date you out instead(: