IM ROTTING AT HOME AGAIN OK
NOTHING FOR ME TO DO.
NO INCOME NO SPENDING. HOW SAD?!
was searching an old photo in photobucket.
and i cannot find it. i like that photo so much la.
and best thing i deleted it from my com.
will upload another personal favourite.
rumaged through my photobucket.
hopefully it will not pollute your eyes.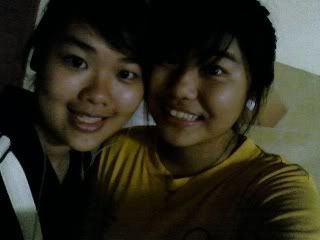 i think i looked kind of different from the past.
that innocence that cannot be found again.

ytd was talking to tiffany about xhh.
look at my tagboard
" we go on vday then you give him rose la"
haha. tiffany,i will buy the rose and the rest will be up to you.
best way to be updated from the story is to read our personal msg in msn.
TIFFANY'S VDAY MISSION NOT TO BE MISSED.
WILL UPDATE ON VDAY IF POSSIBLE TO TELL ALL OF YOU THE ENDING.
HAHA. doesn't it sounds like a script. SO INTERESTING(:
IM SUPER TIRED I DONT KNOW WHY ALSO.
EVEN ROTTING AT HOME CAUSES SOMEONE TO FEEL SO RESTLESS LET ALONE THE GARANG GUNI MAN. NONSENSE AGAIN(:
HOPEFULLY CNY PASSES FAST.
OH YA I WANT TO MENTION ABOUT THIS STUPID QUESTION THAT EVERYONE IS LIKE ASKING ME.
MY HAIR IS AUTHENTIC OK!
I DID NOT DO ANY EXTENTION OF WHATSOEVER.
ITS JUST THAT THE AUNTIE EVERYTIME CUT SOME I DONT KNOW WHAT HAIRSTYLE FOR ME. THATS WHY IT TURNS OUT LIKE THAT.
I CAN LET YOU PULL MY HAIR TO TEST IT OUT.
AND IF STRANDS OF EXTENTIONS REALLY DROP OUT, I WILL PAY YOU $100 FOR 1 BUNCH. NICE DEAL RIGHT.
NOT LIKE ITS MY FAULT THAT IT TURNS OUT TO LOOK LIKE A WIG RIGHT.
IF I WERE TO PUT THOSE EXTENTIONS, IT WILL HAD ALR FELL OFF LONG LONG AGO.
USE YOUR BACKSIDES TO THINK PPL.
everytime have to ans. this kind of question.
irritating. not once not twice but everytime when ppl see my hair.
can't blame right. the colour was actually not like that.
it was super bright red but sadly from that it had turned into some disgusting shit colour.
see my old photo.
i have long hair too.
MY HAIR IS NOT FAKE. PLS DON'T ASSUME THAT AGAIN.
THANKS