a wonderful afternoon that starts off with no work again.
ok, actually there will be no work for the rest of the days till awesome saturday.
i shall start it off from fri.
Guides session was fine except that there were some unhappiness.
nvm, everything will be alright again with just a smile ok.
cheerup, these 2 ppl(: (i dont think im suppose to name out)
after that off to meet anying.
im late again ok as usual.hahahha
she claims that if i put that gold, dazzling strand on my hair i will look like some phillipino maid(is that how you spell?)
and im sad, for that moment i didnt want to put alr.
too many ppl queueing up for the strands.hahahha
ok, its just some party extention but in some shimmering, bright bright party poppers kind and only 1 strand for 50 cents. its not that kind of bunch of hair but its plastic i think
headed to her house before going hougang for our dinner.
met ruixin and anna there.
and some thing happened that just made us that afraid to enter somewhere again.
i think more to anna.hahahha.
saturday doesnt really go my way.
i dont like dont like dont like.
went back to collect our card and it started pouring
bad start to begin with.
and returned home to have a rest and wanted to go to fun dazzle with yvonne's kids.
they are damn cute i swear.
i shall a post a photo of them later
and its closed. so we brought them to the playground.
it just didnt turn out well.
but i bet the kids are having a good time enjoying themselves.
and of course, my day was being made up on sunday.
we went ard the whole place searching for just 1 shop
but still, we bought things.
and sitting in that roller coaster cab made us feel super uneasy.
im sure going to sue him if i rmbr the carplate no.
i think he will be awarded the best taxt driver ever(:
he leans again the door to one side when he drives and he kept braking like no one's business.
and expects us to smile to him when we alight.
he just totally changed our mood 360 degrees upside down ok
after walking for 15 min in amk, we decided to go off.
it will be pointless to continue. we walked like zombies
then then then, to kovan's hk cafe.
omgoodness la, we were offered this big big seat for just 2 person.
yes, ruixin claims that the toilet's grand too.
after to hougang kbox.
finally, after so many weeks.
im back to kbox again. sang sooooooooo many of my songs.
and maybe one shot i just sing 10 after that it then continued with ruixin's
normally charge would be 30 ++ for each, and ytd it was 30 ++ in total.
and today im free again to stay at home doing nth.
im so proud of myself i just sang a duet song well to me.
like finally.maybe a lil out of tune.
but still, i enjoyed.
rumaged through my photobucket and i realised i didnt post this photo up before.
it had been rotting inside for the past 1 yr.
i like this photo alot. see how much we had changed.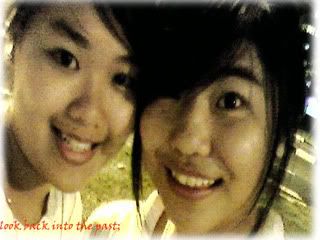 我陪你等天亮
拥抱着一起分享
能放心的哭一场
是再微笑的力量
只有你明白我的疯狂
不管故事有多长
世界对我太善良
这一路上有你我变得坚强(:

too bad my cable didnt work properly and i couldnt upload.
next time perhaps